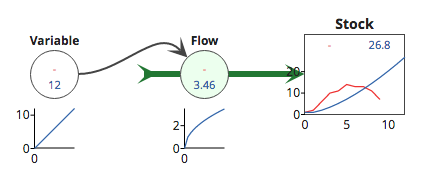 Model with clarity
At its core, Sysdea models the world with 3 simple elements: Stocks which accumulate and deplete, flows which move values in and out of stocks, and variables for intermediate calculations.
These structured elements, with automatic charts, reveal the behaviour and dependencies within your models at a glance.

Build with Speed and Surety
Building models is enough work already, without the software slowing you down. Sysdea's simple shortcuts, auto-completion and fast error feedback mean anyone can be building working models in minutes - ideal for teaching, and saving time for professional users.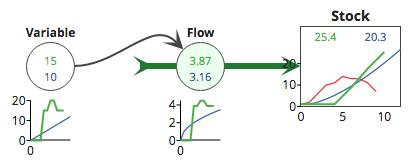 Compare Effortlessly
Getting models to match real-world behaviours is critical. Sysdea® supports a user data series, which is always visible, to compare your simulation against. This lets you put in past numbers, get your model to follow, and build confidence in its future predictions.
Once you have your model, explore alternatives alongside one another. Try out new strategies and scenarios, plan for the worst, aim for the best.

Report and Share
Sysdea lets you quickly pull items out of your model into a clear report.
Showing someone your model is as easy as creating a share link and sending it to them. With nothing to install, all they need is a recent browser to be able to instantly see your model in action.